Alstroemeria Princess Lilies
Alstroemerias a beautiful hardy perennial  not a plant grown for its foliage, but makes up for this with masses of gorgeous flowers.
Almost as exotic as orchids,
 Princess Alstroemerias have become widely planted due to their three month flowering period, beautiful colour range and trouble free growing habit.
Comes in shades of red, pink, yellow, cream, purple and white. In the first autumn after planting, cut back the dead stems and mulch with compost, just to give the roots a little extra protection the first winter.
The princess lilies come in a range of dwarf, and also taller ones for the middle of the herbaceous border.
Princess Alexandra was planted in our back garden something like eight years ago. They are reported as hardy down to minus 10 degrees. Aberdeen seldom gets the really high Summer temperatures enjoyed by those south of the border, however in Winter and being situated on the coast the Winter temperatures are probably not as low as you may think. Temperature in the city is seldom lower than minus ten.
Alexandra is about three feet in height and has gorgeous large blooms of a soft cream colour splashed yellow and dashes of brown. This plant has performed fantastically in our garden year after year. I am actually having difficulty now tracing this one and suspect it may be discontinued. Never mind there are a large number of Alstroemerias to choose from, get in touch with Viv Marsh .
To further cut back on Summer annuals and begonias I am introducing some of the dwarf Princess Lilies to our back garden, this one is Princess Paola. I will let you know how it performs next year.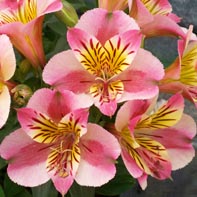 Hardiness – Fully Hardy
Position – Full sun
Height – varies from 15cm to 90cm/3ft